As much as I've bitched about the Tate Modern in the past, this year's offering seems to be packed with must-see exhibitions. I've decided to sign up for membership while I can still get my money's worth out of it – something I neglected to do last year at the V&A, and ended up buying their magazine and tickets to all the shows separately.
So far, the Modern's had almost all of my exhibitioning money for the year. A couple of weeks ago I went to see the Juan Muñoz show for a course I'm taking, and I'm just back from seeing the Duchamp, Man Ray, and Picabia exhibit.
I knew very little of Muñoz before attending the exhibition, besides the fact that he was recently dead. His work consists largely of sculpture and installation, and explores themes of theatre and voyeurism, which certainly appealed to the Brechtian in me. The Prompter, a piece filled with anticipation and masquerade, is perhaps exemplary of his work. We are presented with a stage on which a spotlit drum kit sits, and the legs of a dwarf prompter poking out from a box downstage. Other pieces add to these themes – fragmented and repeated body parts sterilised in glass cabinets, a large patterned floor with a figure facing the wall in one corner, statues looking into mirrors, stairways and corridors leading to obstructed, almost forbidden, places.
 Juan Muñoz Ventriloquist Looking at a Double Interior, 1988–2001
Private collection © The estate of Juan Muñoz

The work that I found most interesting was Many Times, which featured a series of cloned figures assembled in groups, seemingly in conversation. I visited on a very busy day, and it was interesting to note the inversion of spectator/spectacle in this room, particularly when one is invited to step inside a circle of figures. There seemed to be a interesting comment on reflexivity going on there.
My interest in Man Ray's work began several years ago, and was sparked by this video. I had seen several of his, and Duchamp's, pieces from this exhibition in several other spaces and contexts before, so my reaction to this exhibition was very much in relation to the way that the pieces had been used rather than what they were in themselves. The addition of Picabia was something of a strange one – ok, these three artists moved in the same circles, but his work felt a little underwhelming by comparison. I did enjoy his Cinema eye, and the way his ideas blended into the more traditional painting of Duchamp, however.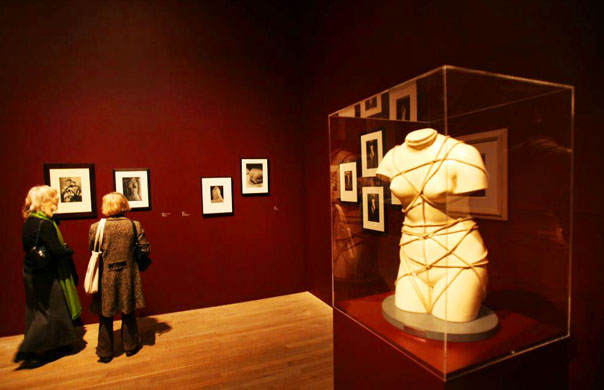 Visitors look at photographs by Man Ray with his Venus Restauree, 1936, in the foreground
Photograph: Graham Turner

The exhibition was laid out thematically, which lent itself to a comprehensive understanding of the "purposes" of these artists. My favourite room was perhaps Objects, which did feature a few of the Indestructible Objects. A warning to those under 5 foot – wear high heels if you plan on viewing Etant Données!
Tate will be showing Street & Studio: An Urban History of Photography and Rothko among others later this year.